0086-571-87978016
info@youngsunpack.com


YSCSP Ultra Clean Filling Capping Machine
YSCSP ultra clean filling capping machine is designed for plastic bottle filling and capping with high hygienic standard. It is consisted of bottle feeding, bottle picking and transportation, vaporized hydrogen peroxide sterilization and aseptic air drying, filling and capping, output systems and transport.
Applicable Filling material:Liquid: Yogurt, milk, drink, fruit juice and so on.
Applicable packaging material: HDPE/PP/PS/PET bottle
Main Technical Data:
Model
YSCSP-10000
YSCSP-20000
Production capacity:
10000 bottles/h
20000 bottles/h
Filling volume
200g-700g
Applicable Filling material
yogurt ,milk,mineral water, beverage
Filling temperature
4-40°C
Filling error
≤±0.5%
production efficiency
≥90%
Qualification rate
≥99.5%
Single step specification
12 bottle / step
20 bottle / step
Total power
34.5Kw
38.5Kw
Running power
40%-60%
Power of motor
24Kw
28Kw
Other
1Kw
1Kw
Filling heads:
12
Air pressure:
≥0.6MPa
Air consumption
≥0.8m³/min
Power supply
3+N+PE 50Hz 380/220V±10%(3P 5 wires)
Outer dimensions (appr.)
8.3×3.7×3.5 m (L×W×H)
8.3×4.2×3.5 m (L×W×H)
Machine weight (appr.)
8.2 tons
8.6tons
According to different characteristics of products, the capacity will be different.
Main Configuration:
Servo motor:
Germany Siemens
Sensor:
Germany P+F
PLC:
Germany Siemens
Inverter:
France Schneider
Temperature:
Japan Omron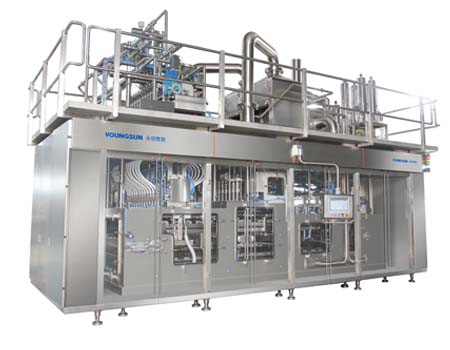 Equipment Structure:
Driving system:
1. Online vaporized H 2 O 2 concentration monitoring and makes sure the sterilization.
2.Vaporized H2O2 sterilization, filling and capping are finished in clean seamless chamber.
3.Online aseptic air drying monitoring.
4.Hundred grade flow hoop device makes sure the air in the machine clean.
5.Simplified bottle neck positioning technology by mold plate opening and closing, which is applicable for filling various bottles with same bottle neck but different in volume and shape. Thus, the machine is in a quality of high capability, quick changeover time and high production efficiency.
6.Servo driven magnetic cap screwing technology with simple structure, high stability, long service life and securing the cap screwing.
7. Machine is made of stainless steel, which can meet food grade requirements.
8.Drip proof design for filling heads.
9.High efficiency and energy saving.
10.Easymaintenance.
Parameters and functions are subject to change without further notice.
Working Process:
1.Bottle feeding with screw rod
2.Bottles are picked by robot arm and then transported to the bottom
3.The bottles are place upside down and then sterilized by vaporized hydrogen peroxide
4. Dry the bottle
5.Turn the bottle back and fill the bottle with the liquid two times
6.Capping
7. Picked out the filled bottles
8.Output the finished products