0086-571-87978016
info@youngsunpack.com


YSJ Serial Spray Type Pasteurization Tunnel

YSJ Series spray type pasteurization and cooling tunnel performed food sterilization on normal pressure, its temperature is controlled 2~3℃lower than water boiling point, the actual temperature is often decided by food sterilizing technical requirement and location(when air pressure lower than boiling point, temperature is low, so maximum sterilizing temperature is low too.)

It adopts sterilization method, the principle is limited in a certain temperature range85℃-90℃,If the temperature is high enough, the bacteria will die. Different bacteria have different optimum growth temperature, heat resistance, and cold capacity.

Applicable product:high temperature instant sterilization of liquid materials such as milk,soy milk , food, fruit juice and so on.

Main Technical Data:
Model
YSJ-5
YSJ-6
YSJ-7
YSJ-8
Qty of sections
5
6
7
8
Each section size:(mm)
2580×2800
2580×2800
2580×2800
2580×2800
Power of pasteurizater: (KW)
16.87
19.87
22.87
25.87
Match Qty of cooler: ( section )
1
1
2
2
Power of Cooler :(KW )
5.87
5.87
7.87
7.87
Water pressure:(MPa )
≥0.2
≥0.2
≥0.2
≥0.2
Qty of pump:
6
7
8
9
Air pressure: (MPa)
≥0.6
≥0.6
≥0.6
≥0.6
Weight(appr.): (Kg)
4000
5000
6000
7000
Heat consumption: (kcal / hour)
90000
112500
135000
157500

Machine size

(L x W x H):

14.4×2.28

×1.8m

16.8×2.28

×1.8m

19.2×2.28× 1.8m

21.6×2.28

×1.8m

Power supply(optional):
3N-PN-50Hz 380V/220V (3P 5 wires)
According to different characteristics of products, the capacity will be different.
Main Configuration:
PLC:
Siemens
Electric pump:
Denmark "GRUNDFOS"
Steam valve:
German"GEMU"
Thermolator:
"MEIWE" or "OMRON"(option)
Electrical components:
France "Schneider"
Plate heat exchanger:
Shanghai "Jiangxing"
Chain conveyor :
Italian "Regina"
Steam pressure:
0.5~0.8MPa
Bottle feed conveyor height:
1000±50mm
Cable requests:
adopts 3x6mm2+1 x 4mm2cable, with good and reliable grounding
Water requests:
Cleaning water should be conformed to national health standard for drinking
Temperature requests:

Cooling tower water :20℃-25℃

Product feeding :30℃-45℃

Out put :38℃-42℃

Diameter of water pipe:
103mm
Chain conveyor:
Polypropylene mesh, suitable for use in 110 ℃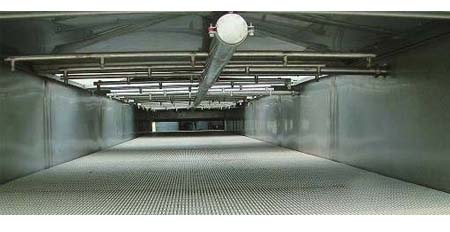 Machine Features:
1.Frame Material; AISI304 stainless steel
2.Be configured according to the insulation layer
3.Heat exchanger; Tube steam type
4.Polypropylene mesh conveyor belt, can be used for 110 ℃;
5.Water tank are all stainless steel;
6.Spary pipe are all stainless steel;
7.Stainless steel plate cover and side cover, easy for disassembly, cleaning and maintenance inspection;
8.Easy to transport, easy to install on site, without welding
9.The temperature display, platinum thermocouple type PT100, pressure gauges, temperature controller
10. HMI adjust the temperature
Parameters and functions are subject to change without further notice.