0086-571-87978016
info@youngsunpack.com


Key:
Robot,Robot Palletizer,Industrial Robot, Palletizing Robot,Robot Packer,Robotic palletizer
Palletizing Robots: Industrial palletizing refers to loading and unloading parts, boxes or other items to or from pallets. Automated palletizing refers to an industrial robot palletizer performing the application automatically.
Robot palletizing can be seen in many industries including food processing, manufacturing, and shipping.
A robotic palletizer is able to handle heavy payloads and have large horizontal and vertical reaches that allow parts to be palletized from varying distances.
YSR-4-80-F
Series Multi-axls Robot palletizer
Model
YSR-4-80-F
Rated payload
80kg
Power supply
8.7KW
Reach
3150mm
Number of axes
4
Mounting position
Floor
Weight of robot
1400KG
Pose repeatability
±0.5mm
Floor area
900*900mm
Axis data
A1 ±180°
A2+90°至-40°
A3+15°至-115°
A4 ±360°
Max speed
A1 120°/s
A2 135°/s
A3 135°/s
A4 300°/s


YSR-4-220-F
Series Multi-axls Robot palletizer
Model
YSR-4-220-F
Rated payload
220kg
Power supply
15KW
Reach
3150mm
Number of axes
4
Mounting position
Floor
Weight of robot
1600KG
Pose repeatability
±0.5mm
Floor area
900*900mm
Axis data
A1 ±180°
A2+90°至-40°
A3+15°至-115°
A4 ±360°
Max speed
A1 95°/s
A2 95°/s
A3 95°/s
A4 240°/s


YSR-4-300-F
Series Multi-axls Robot palletizer
Model
YSR-4-300-F
Rated payload
330kg
Power supply
16.6KW
Reach
3150mm
Number of axes
4
Mounting position
Floor
Weight of robot
1700KG
Pose repeatability
±0.5mm
Floor area
900*900mm
Axis data
A1 ±180°
A2+90°至-40°
A3+15°至-115°
A4 ±360°
Max speed
A1 90°/s
A2 90°/s
A3 90°/s
A4 195°/s


YSR-4-470-F
Series Multi-axls Industry Robot
Model
YSR-4-470-F
Rated payload
470kg
Power supply
26.9KW
Reach
3150mm
Number of axes
4
Mounting position
Floor
Weight of robot
2210KG
Pose repeatability
±0.5mm
Floor area
950*950mm
Axis data
A1 ±180°
A2+90°至-40°
A3+15°至-115°
A4 ±360°
Max speed
A1 85°/s
A2 80°/s
A3 80°/s
A4 165°/s


YSR-2-60-F
Series Multi-axls Industry Robot
Model
YSR-2-60-F
Rated payload
20-60kg
Power supply
5.0KW
Reach
≤1800mm
Number of axes
2
Mounting position
Floor
Weight of robot
200KG
Pose repeatability
±0.5mm
Floor area
700*700mm
Axis data
A2+90°至-35°
A3+15°至-110°
Max speed
A2 105°/s
A3 105°/s

YSR-2-120-F
Series Multi-axls Industry Robot
Model
YSR-2-60-F
Rated payload
120kg
Power supply
6.2KW
Reach
3150mm
Number of axes
2
Mounting position
Floor
Weight of robot
≤600KG
Pose repeatability
±0.5mm
Floor area
700*700mm
Axis data
A2+90°至-40°
A3+15°至-115°
Max speed
A2 125°/s
A3 125°/s


YSR-2-220-F
Series Multi-axls Industry Robot
Model
YSR-2-220-F
Rated payload
220kg
Power supply
8.6KW
Reach
3150mm
Number of axes
2
Mounting position
Floor
Weight of robot
≤800KG
Pose repeatability
±0.5mm
Floor area
700*700mm
Axis data
A2+90°至-40°
A3+15°至-115°
Max speed
A2 95°/s
A3 95°/s


YSR-2-600-F
Series Multi-axls Industry Robot
Model
YSR-2-600-F
Rated payload
600kg
Power supply
15.4KW
Reach
3150mm
Number of axes
2
Mounting position
Floor
Weight of robot
≤1400KG
Pose repeatability
±0.5mm
Floor area
700*700mm
Axis data
A2+90°至-40°
A3+15°至-115°
Max speed
A2 65°/s
A3 65°/s


YSR-2-20-C
Series Multi-axls Industry Robot
Model
YSR-2-20-C
Rated payload
≤20kg
Power supply
3.8KW
Reach
1105mm
Number of axes
2
Mounting position
Ceiling
Weight of robot
155KG
Pose repeatability
±0.5mm
Floor area
320*440mm
Axis data
A2-10°至+95°
A3-50°至+50°
Max speed
A2 65°/s
A3 65°/s

YSRC-4-10-W
Series Multi-axls Industry Robot
Model
YSRC-4-10-W
Rated payload
≤10kg
Power supply
3KW
Reach
600mm,800mm
Number of axes
4
Mounting position
Ceiling
Weight of robot
50KG
Pose repeatability
±0.5mm
Floor area
230*300mm
Axis data
A1 ±180°
A2 ±150°
A3 400mm
A4 ±500°
Max speed
A1 225°/s
A2 225°/s
A3 170°/s
A4 180°/s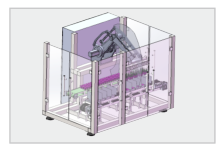 YSRD-4-03-C

Series Delta Robot

Model
YSRD-4-03-C
Delta
delta type
Power supply
2.9kw
Degree of freedom
4(Rotational axis optional)
Weight
60Kg
Working volume(optional)
Φ800X250mm
Φ1130X300mm
Φ1350X350mm
Rotational axis(optional)
±360°
Maximum payload
1Kg
Maximum speed
160p/min
Pose repeatability
±0.3mm

Angle repeatablity

±0.3°
Cycle time
0.5s
Cycle path
25X305X25
Payload
0.5Kg

YSRD-4-01-C

Series Delta Robot

Model
YSRD-4-01-C
Delta
delta type
Power supply
2.9kw
Degree of freedom
4(Rotational axis optional)
Weight
60Kg
Working volume(optional)
Φ800X250mm
Φ1130X300mm
Φ1350X350mm
Rotational axis(optional)
±360°
Maximum payload
1Kg
Maximum speed
160p/min
Pose repeatability
±0.3mm

Angle repeatablity

±0.3°
Cycle time
0.5s
Cycle path
25X305X25
Payload
0.5Kg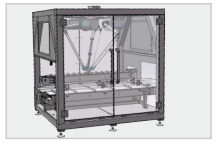 YSRD-3-01-C

Series Delta Robot

Model
YSRD-3-01-C
Delta
delta type
Power supply
2.4kw
Degree of freedom
3
Weight
52Kg
Working volume(optional)
Φ800X250mm
Φ1130X300mm
Φ1350X350mm
Rotational axis(optional)
±360°
Maximum payload
1Kg
Maximum speed
160p/min
Pose repeatability
±0.3mm
Cycle time
0.5s
Cycle path
25X305X25
Payload
0.5Kg

YSRD-03-C

Series Delta Robot

Model
YSRD-3-03-C
Delta
delta type
Power supply
4.5kw
Degree of freedom
3
Weight
72Kg
Working volume(optional)
Φ800X250mm
Φ1130X300mm
Φ1350X350mm
Rotational axis(optional)
±360°
Maximum payload
3Kg
Maximum speed
160p/min
Pose repeatability
±0.3mm

Angle repeatablity

±0.3°
Cycle time
0.6s
Cycle path
25X305X25
Payload
1Kg