0086-571-87978016
info@youngsunpack.com


YS-ZS-400s vacuum packaging machine


Production information:
DQ/ZS series vacectronic pressure sensor to assure steady control of vacuum and gas packaging functionuum (flushing) packing machine are suitable for meat, condiment, medicine and all kinds of food in all kinds of forms protect the things in vacuum (or insert air) to keep fresh.
The YS-ZS-400s vacuum packaging machine is a single seal unit designed for sealing contents in vacuum pouches. It is equipped with an else (options)
The YS-ZS-400s vacuum sealer is available with a digital control panel that is user programmable to memorize frequent sealing operations and the YS-ZS-400s has a wide, long vacuum chamber that will accommodate very large packages or several small packages in one sealing cycle. It is possible to seal as many as four small pouches in one operation greatly increasing productivity.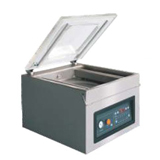 | | |
| --- | --- |
| YS-ZS-400S | |
| Table style vacuum machine | |
| Model | YS-ZS-400s |
| Vacuum capability | 20m³/h |
| Work cycle | 15-40sec/cycle |
| Heating seal bar QTY | 2 |
| Heating seal bar size | 400×8mm |
| Power | lP 220V 50/60Hz 1 .0KW (other voltage optional) |
| Machine size | 500 x 530 x 490 mm |
| Package size | 540×550×650mm |
| Net Weight | 60Kg |
| Gross weight | 70Kg |
| Options | 1.gas-filling function |